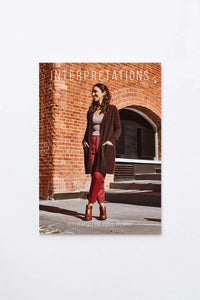 This is the 8th volume of the collaborative design series Interpretations by none other than Joji Locatelli and Veera Välimäki!
Following on from Volume 7, this year is the second time that the two designers couldn't be together to shoot the pattern photography for Interpretations. Due to travel restrictions, Joji and Veera shot their photos in their respective homelands of Argentina and Finland. Nevertheless, we think this volume is just as cohesive as its predecessors, and reflects the hard work Joji and Veera put into making Volume 8 during a global pandemic!
Volume 8 features 12 garment and accessory knitting patterns from a variety of yarn producers.