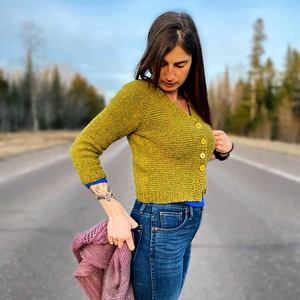 We're hosting a Reunion Cardigan Workshop once a month from now through January.  Whether you have a Reunion Cardi started and you need a little boost to finish, or if it's your very first sweater and you need guidance all along the way, we're here to help. Sign up for whichever session is most helpful for you -- or all four if you'd like!

Skill Level: Adventurous Beginner


Experience Required: You should be comfortable with knit and purl, flat and in the round. 


Techniques Learned: You'll learn about gauge swatching, sizing, basic kfb increases, and picking up stitches
Class Schedule:
October 23 5-7 pm: Swatching, Sizing, Cast on and Raglan Shaping
November 20 5-7 pm: Try-on, Placing Sleeves on hold, working body flat
December 18 5-7 pm: Working sleeves
January 22 5-7 pm: Button Band and finishing
Materials Required: Pattern and yarn purchased from Chickadee Knit Studio


Price: $25 per class session with Chris